Though this album, produced in November of 2001, was recorded by a group that only worked together briefly, the results do not betray that secret. In this case, the members' widely differing backgrounds and styles made for an unusual hybrid. Daisy is well known now as a fixture in the Chicago free-jazz scene and a long standing member of the Vandermark 5. Kurt Johnson, the more enigmatic member of the trio, hailing from the Peabody Institute has performed with much louder and noiser bands Flying Luttenbachers, Lozenge and Cheer-Accident. Interestingly, Kurt Johnson and Tim Daisy played together later as the initial rhythm section in Kyle Bruckmann's excellent chamber jazz ensemble Wrack.
The tone and character of the music is inspired by Japanese jazz pianist Masabumi Kikuchi, Israeli novelist Amos Oz and of course the illustrious Paul Bley.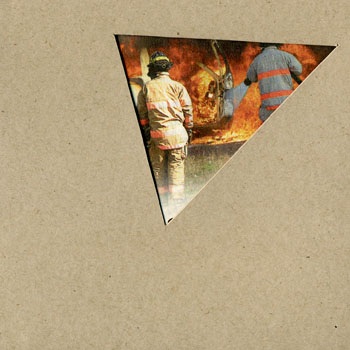 Tracks
The Sea Doesn't Run Away
Puckish
Lost and Found
Juggernaut
Cranes Wheel and Whirl and Are Gone
Irreverent
The Sea Doesn't Run Away (take 2)
Irreverent (take 2)
Musicians
D Bayne - piano
Tim Daisy - drums
Kurt Johnson - bass
Production
Designed by T. Kellers, Studio Twelve 3
Reviews
This Chicago area trio features pianist D Bayne who runs the Luminescence label; bassist Kurt Johnson who has worked with Kyle Bruckman, Lozenge & the Flying Luttenbachers and drummer Tim Daisy who plays with the Vandermark 5, Scott Rosenberg, the Engines, Triage & Klang. This disc was recorded live in the studio in November of 2001. Mr. Bayne, who also leads a fine septet on this same label, wrote all of the songs here. "The Sea Doesn't Run Away" opens as a hushed, spacious ballad with subtle, eerie mallet-work by Mr. Daisy. This piece has the lush and lyrical vibe of the Bill Evans Trio of the mid-sixties, moving in lovely expansive waves. Bayne is a fine composer and each piece is strong and thoughtfully conceived and played. "Cranes Wheel and Whirl and Are Gone" is a lovely, laid back and exquisite work, calm and dreamy. "Irreverent" speeds up and slows down organically with a rich and graceful elegance that is most touching. In some ways this disc is more mainstream sounding than most things we review here, yet I still find this disc to be immensely charming and exciting on a more restrained level. Often beautiful beyond words.
Bruce Lee Gallanter
Downtown Music Gallery
Images