This album represents the culmination of a nearly five-year collaboration between Strike and five exceptional composers. We have been playing and working together in one format or another since 1996, when we met as graduate students at SUNY, Stony Brook, NY. Our passion and interest in new music sparked a vibrant friendship and spirit of collaboration, and finally, among many various ensembles and projects, a duo was born. The piano and percussion duo does not have a tremendously developed repertoire, and we quickly determined that we would love to have new works to perform. We approached some of our most respected composer friends and deeply valued colleagues and asked them if they would be willing to write or arrange something for this project, putting our trust in their compositional process. We could not have been more inspired by the creations; the results are diverse in style and character, each with a unique sense of place, time and space, all demanding great creativity on the part of the performers and offering the listener a wide spectrum of experience. We have ended up with five distinct and vibrant works from the early 21st century; the convergence of multiple and varied streams of the contemporary compositional and cultural landscape. We believe these works represent important new additions to the repertoire, demonstrating the kind of compositional craft and musical integrity that will guarantee their lasting value and relevance.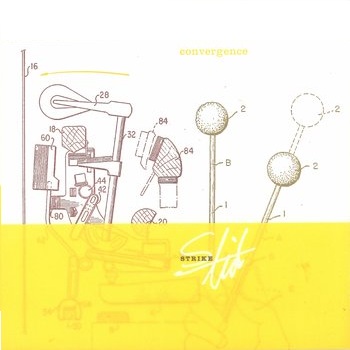 Tracks
Chen Yi
China West Suite for marimba and piano (2007)
I
Introduction
II
Meng Songs
III
Zang Songs
IV
Miao Dances
Brooke Joyce
Sacred Trees (2007)
I
Aspen Grove
II
Hackberry
III
Chinquapin Oak
IV
Red Oak
V
Blue Beech
VI
Elm
Marc Mellits
Tight Sweater Remix (2005/2009)
I
Exposed Zipper
II
Trans Fatty Acid's Rein
III
Mechanically Separated Chicken Parts
Daniel Koontz
Soft Stillness and the Night - in 6 movements (2007)
James M. David
Duo Toccata (2008)
I
Campanello d'allarme
II
Aula di tribunale
Musicians
Jeffery Meyer - piano
Paul Vaillancourt - percussion
Production
Recorded at Schwob School of Music
Columbus State University, Legacy Hall, Columbus, Georgia
Recorded by Bradford Andrews
June 1 through June 5, 2009
except Mellits Recorded by Matthew McCabe, October 11, 2009
Mixed by Bradford Andrews, August through December 2009
Designed by T. Kellers, Studio Twelve 3
Reviews
The album
Convergence
by the duo Strike featuring pianist Jeff Meyer and percussionist Paul Vaillancourt includes new music by composers Chen Yi, Brooke Joyce, Marc Mellits, Daniel Koontz and James David. This is an impressive duo performing new music from mostly composers I am not familiar with except for Chen Yi who has two discs out on New World as well as a dozen other labels. Ms. Yi's
China West Suite
is written for marimba & piano, was inspired by folk music from West China and is in four parts. The piece has a charming, playful quality with a bit of Zappa-like whimsy. The second part is a dreamy interlude while the intricate interplay on part three shows how the marimba and piano are perfect companions with a similar timbral range. The fourth part has that intense, near-frantic pace that gets me so excited. Brooke Joyce's
Sacred Trees
was inspired by the trees of the Native American burial grounds in Iowa known as Effigy Mounds. This piece is also a suite in six short parts. The piece balances between the mysterious and other-worldly sounds of playing inside the piano with the ghostlike sounds of ritualistic gongs and cymbals. It feels as if time is moving slowly, similar to the way trees gradually grow towards the sun. "Tight Sweater Remix" by Marc Mellits seems like an odd title for a modern composition but it is a tight, complex well-written work for piano & marimba, rambunctious and quite spirited. The next piece, Daniel Koontz'
Soft Stillness and the Night
comes from an opposite world. Ultra subtle in part with the exquisite use of silence and space and occasional bursts of activity. The final work is Jim David's
Duo Toccata
which employs the ringing tones of gongs with see-sawing piano lines. The effect is quietly mesmerizing, creating a playful dreamworld with a sprinkling of joyous melodies. It would seem that the two members of Strike have selected these composers and pieces so that this entire disc is engaging throughout and it works as a well-integrated program.
Bruce Lee Gallanter
Downtown Music Gallery
Some of the greatest pleasure to be had reviewing for this site is when a disc creeps up on you and charms and fascinates in the most unexpected way. I cannot say that the shelves of my collection groan under the sheer number of discs of contemporary music for piano and percussion so I cannot claim any huge expertise. However, I have been thoroughly beguiled by every aspect of this disc from packaging and production to performance and repertoire. A big congratulations to Luminescence Records for producing such a fine disc.
The performers here are a percussion and piano duet called "Strike" featuring Jeffery Meyer on piano and Paul Vaillancourt on multiple percussion. These are exceptionally fine players individually and in tandem. As with any recital of works by five different composers there will always be pieces that an individual responds to more than others but the programme here is beautifully assembled to show off the rich diversity of music that has been arranged and composed for this duo. Many of the sounds and textures conjured here are ravishing and the mood of the music ranges from gently reflective and spiritual to boisterously muscular and good humoured...
Nick Barnard
MusicWeb International
Album Artwork